The magic of barnfinds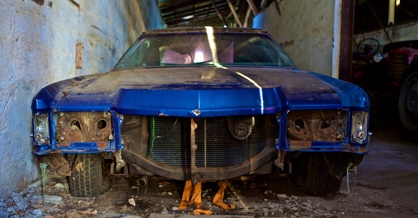 Has the classic car world gone mad? Everyone witnessing the February rush for the Baillon-collection in Paris could be forgiven for thinking so: Dents, dust and rust in no small measures attracted absolute record prices and not least record interest from the public. A Danish comparative study now confirms the trend: Barn finds beats restored cars.
It certainly seems the barnfind has golden days, as shown by a rather unscientific but very real comparative study in Denmark: The auction house Campen Auktioner has recently announced two separate collections coming up for sale on March 29, one being a barnfind and another one consisting of twelve perfectly fine classics cars. Both collections were announced with Youtube-teasers and the auction house were quite surprised by the fact that barnfind has attracted by far most interest with comparatively rather little mention of the good cars.
Or is it in fact just what the classic car world is about: Romance above all? Dreams before reality? The psychological mechanism involved here could very well be worth a more thorough study.
Fortunately the media rush also attracted good solid cars for sale - perhaps mostly of interest for the sober and judiciously thinking fraction amongst the classic car enthusiasts.
Relevant information
Stumbled upon car and tractor barn-find in Denmark
https://www.youtube.com/watch?v=dqEyACg07g8
Sneak preview at the cookie king's car collection
https://www.youtube.com/watch?v=p4Cwoqa42kY
Complete catalogue of about 50 special cars
http://campenauktioner.dk/specialauktion-palmesoendag-3/
Pressekontakt
Annette Kjær
PR & Marketing Manager, Campen Auktioner A/S
+45 22 543 543
18/03-15 - Pressemeddelelse