Barnfinds are all the rage these days in the classic car world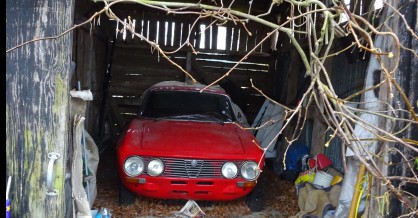 However they tend to lose some of the romance when pulled out of their barns. Now a Danish barnfind is being sold at auction directly out of the barn where they were discovered, romance and rust completely intact.
The settings could not be more right: You drive to the site of the barn along beautiful, winding idyllic country roads, which are found only on the island of Funen. Known as The Garden of Denmark and where world famous poet and author Hans Christian Andersen was born, the road trip in itself is a small adventure.
And then the old farm buildings suddenly presents themselves and the story unfolds: Telling a story of better times that are now over. In the good times the German architect and builder Rudolf Steiner collected cars, and one by one brought them home from Germany and the GDR over a period of approximately 20 years.
Rudolf owned agricultural property in Faaborg and used it as his summer residence, and all the cars were brought here. They were parked first in the former cow barn and later in several other buildings, and as the collection grew they were placed more and more a little helter-skelter.
Unfortunately Rudolf was declared bankrupt and his agricultural property was sold with all fixtures and personal property, including the approximately 30 cars. Some of the cars are now very rare - which to some degree counters for the fact that they do not all have papers nor keys.
What they are not lacking is romance: The auction house therefore decided to leave all as it was found, and viewing of the cars is at the venue itself. Many Danish enthusiasts have traveled to see the site to experience the feeling of a very genuine barnfind themselves.
The cars themselves represent a quite wide range of types, nationalities and periods: Alfa Romeo, Renault 5 Turbo, early Opel Manta, Fiat 128 3P, Mazda RX7. And the appearance of a Trabant in the shadows and motorbikes where they fit in speaks volumes of an enthusiast with a broad taste - see the below list HOW broad:
Alfa Romeo Giulia Coupe, early 1970s
Alfa Romeo Spider convertible, around 1975
Alfa Romeo Alfetta 1.9, around 1970 parts car
Alfa Romeo engine with gearbox, year unknown
Trailer for Unimog
Austin Mini, early 1970s
DAF, around 1970
Fiat 128 3P, early1970s
Fiat 500, 1965-66
Ford Courier Diesel van, early 1980s
Ford Fiesta Diesel, around 1970
Ford Sierra XR 4 x 4, year around 1986
Ford Taunus 17M year 1962-63
Ford Taunus 17M, early 1960s
Ford V6 engine, year unknown
Massey Ferguson tractor, year unknown
Mazda RX7 Coupe, year unknown
Mercedes Unimog 4 x 4 with 4-wheel drive and dump body, year 1969, Danish papers
MZ ES "banana" vintage 1967, Danish papers
MZ ET 150 cc motorbikeyear 1972 has been registered in Denmark
MZ A 150 cc motorcycle, year 1972, Danish papers
Opel Manta A, around 1972-73
Opel Rekord C 4 door, parts car
Puch Steyr, year 1965-66 (license made Fiat 500 in Puch factories in Austria)
Renault 5 Turbo, around 1986 - Alpine engine - parts car
Russian Jeep, year unknown
Saab 96, 1966-68
Trabant 600 Z, around 1970
Trabant 600, 1962 (one of the first since production began in 1957)
Volvo engine 1966 SGP with gearbox
Volvo engine 4968 with gearbox
Volvo PV 444, 1957
VW Caravelle Diesel, year unknown
VW LT 28 Diesel (6-cylinder), year unknown
VW Syncro pick-up personnel carrier, 1980s
Practical information:
All cars, motorcycles and engines will be sold to the highest bidder with no minimum price.
The internet auction ends Monday June 1, 2015 at 20.00 o'clock at first directory number (soft close)
Campen Auktioner A/S online auction no. 290 film: https://www.youtube.com/watch?v=U-75MUtr9hs
Campen Auktioner A/S catalogue for auction no. 290: https://campenauktioner.hibid.com/catalog/57699/290-net--ladefund-p--b-gebjergg-rden--fyn-?tab=0
Campen Auktioner A/S link to gallery with 83 photos of the cars: https://www.facebook.com/media/set/?set=a.452609594901848.1073742006.230153567147453&type=1
Auction house: Campen Auctioneers A/S
URL: www.campenauktioner.dk
Email: mail@campenauktioner.dk
Information, PR, English, Danish: Annette Kjaer, +45 22543543, pr@campenauktioner.dk
Information English: Anders Skovfoged, +45 22 63 79 00, as@campenauktioner.dk
Information about cars: Hans Pedersen, +45 29 84 82 82 hans.pedersen@bilnostalgi.dk
Information German: Morten Wresnak, +45 22 53 98 78, mw@campenauktioner.dk
Administration: Sara Kjeldbjerg, +45 25 77 55 00, sos@campenauktioner.dk
Preview: Monday, May 25 at 17-19 & Sunday, May 31 at 13-15
Barnfind adresse: Bøgebjergvej 66 V Aaby, DK-5600 Faaborg, Denmark
Relevant information
Link to 83 photos of the Barnfind
https://www.facebook.com/media/set/?set=a.452609594901848.1073742006.230153567147453&type=1
Link to YouTube movie of the Barnfind on Fynen
https://www.youtube.com/watch?v=U-75MUtr9hs&app=desktop
Link to Campen Auctionhouse Barnfind catalogue
https://campenauktioner.hibid.com/catalog/57699/290-net--ladefund-p--b-gebjergg-rden--fyn-?tab=0
Pressekontakt
Annette Kjær
PR & Marketing Manager, Campen Auktioner A/S
+45 22 543 543
15/05-15 - Pressemeddelelse