Acquired a well-known bankrupt estate: Discovered that customers had many valuable machines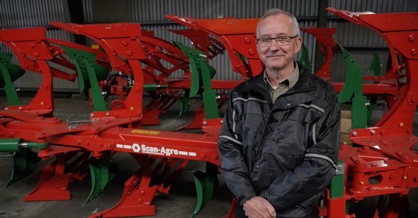 A major case of detective work led to about 100 agricultural machines being unearthed from the estate when Jens Almar acquired the bankrupt Scan-Agro last year. The many machines were lent or hired out to customers and were not know to the buyer when he bought the estate in the course of just one week in July 2014. Now they are being sold at auction - as part of the 2000 items that are left from the estate.
When Jens Almar bought the estate of the bankrupt Scan-Agro last summer, it was a bit like picking up the pile of cards in a game of rummy. He knew there were many good cards in the pile - but not exactly how many - and he did not know if he would be able to get rid of the surplus.
- There were some nights when it was difficult to sleep, but fortunately there were many valuable items in the estate and it was easy to sell some of the machines and parts that we did not need ourselves, says Jens Almar. As owner of Lindus Maskinhandel, he saw the potential in buying the bankrupt estate of his competitor Scan-Agro and thereby gaining access to Scan-Agro's many spraying customers.
One of the many surprises was revealed while going through the documents after his purchase and learning that nearly 100 agricultural machines loaned out to customers in Scan-Agro or hired out on contracts had often been defaulted on. These included tractors, seed drills and mini excavators, among other things. Having previous experience with buying bankrupt estates and selling them again, Almar put a lot of effort into tracking down the machines, getting them back or ensuring sustainable contracts - and there have been numerous challenges along the way.
- It has been a huge task. We have spent many hours on it and it has not always been fun. I was once threatened by someone who said he was going to get his hunting rifle, but it never reached that point and we got the machines back, he reports.
The returned machines are now being sold at auction along with a number of other items. Almar expects to be able to end a year of intensive work by disposing of the estate. Almar sold the first 2000 items through three big sales - including a number of SAME tractors, Lamborghini tractors and Chinese mini excavators.
- I was afraid that I wouldn't be able to get rid of the tractors and mini excavators, but it turned out that there was great demand for them from people working as Christmas tree growers, in nurseries, as farmers and machine dealers at home and abroad, says Almar, who himself started his career in 1965 as a tractor mechanic.
- However, we did not manage to assemble and prepare the seed drills in time last year. We have done so over the winter, and they are now coming up for auction on 20th June, with harrows, ploughs, tools and office furniture. There are 2000 items in all, he says.
There will be a physical auction in Hadsund, Denmark on June 20, organized by CampenAuktioner.dk
The many machines and effects are collected in Hadsund, the former headquarters of Scan-Agro. Before its bankruptcy, it was the largest machine dealer with branches in Funen and Zealand and exports to Eastern Europe. The day before the auction there was a bidding round for the buildings, which are owned by Realkredit Denmark and were sold through Home.
- We must be out of the buildings as soon as they are sold, so everything must be sold during the auction. However, I also expect this to happen, because there are some good machines and seeing as buyers are deciding the prices themselves, things is guaranteed to go well, says Jens Almar.
About Jens Almar:
Owner of Lindus Maskinhandel ApS, which produces and services field sprayers and imports Western trucks through Western DK A/S.
Film where Jens Almer presents:
https://www.youtube.com/watch?v=x-xnl0end1s
Side history with plough picture:
The plough behind the controversial reclamation is for sale
One of the machines put up for auction on 20th June had a significant impact on the Danish coastline. In the early 1960s, the plough in question was used by Overgård Estate to reclaim 1000 hectares of land at the mouth of Mariager Fjord - the last major reclamation of territorial waters for agriculture in Denmark and a controversial approach that divided opinion.
The property
The total property of Østergade 63, 65, 67-69, 71, 9560 Hadsund (which is a large lot of buildings totalling 10,393 m² and 27,954 m² of total site area) is being offered for sale in the bidding round. Home Erhverv Østjylland - Aarhus is holding an open house at the address on the 19th and 26th of June, both days at the same time of 13.00 to 13.45. The deadline for offers is 6th July 2015, 12.00. See detailed description at www.homeerhverv.dk
Practical information
Auction house: Campen Auktioner A/S
URL: www.campenauktioner.dk
E-mail: mail@campenauktioner.dk
PR & Marketing: Annette Kjaer, +45 22543543, pr@campenauktioner.dk
Information German: Morten Wresnak, +45 22 53 98 78, mw@campenauktioner.dk
Information English: Anders Skovfoged, + 45 22 63 79 00, as@campenauktioner.dk
Administration: Sara Kjeldberg, +45 25 77 55 00 sos@campenauktioner.dk
Physical auction
Campen Auktioner A/S: Catalogue no. 301, Physical auction, held Saturday, June 20 from 08:00 in Østergade 65, 9560 Hadsund, Denmark. Admission: 30 DKK.
Preview
For both physical and online auction 303, 304, 306 and 307 are held starting Saturday, June 20 pm. 08:00 in Østergade 65, 9560 Hadsund, Denmark.
Delivery
Delivery on auction day for physical auction until 301 pm. 18:00 and Monday, June 22 at. 09: 00-15: 00 and Tuesday 23 June at. 09:00-15:00.
Relevant information
Link to the film about the history of bankruptcy
https://www.youtube.com/watch?v=x-xnl0end1s&feature=youtu.be
Link to the catalog of the machines to the physical auction
https://campenauktioner.hibid.com/catalog/58647/302-maskinauktion-ved-scan-agro--fysisk-auktion-i-hadsund-?tab=0
Link to Campen Auctioneers
http://www.campenauktioner.dk/
Pressekontakt
Annette Kjær
PR & Marketing Manager, Campen Auktioner A/S
+45 22 543 543
03/06-15 - Pressemeddelelse