Arctic Sports Event Makes Community Wiser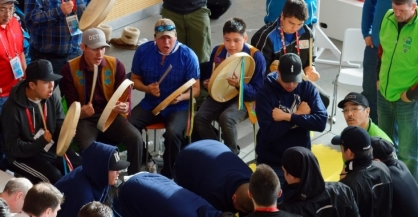 Greenland's biggest sports and culture event ever is running now in Nuuk. The ambition is that the event will beneficially impact the Arctic sporting world - and keep its rich culture alive.
Greenland's biggest sports and culture event ever is running now in Nuuk. The ambition is that the event will beneficially impact the Arctic sporting world.
This week, the capital of Greenland is overflowing with life. Around 2200 Canadians, Americans, Russians, and Samis are visiting the town to participate in Arctic Winter Games 2016 as athletes, culture representatives, coaches, team leaders, and others. It is the largest event ever in Greenland.
- Arctic Winter Games is an enormous logistical challenge that has required years of planning. We have recruited 1700 volunteers for the event, which amounts to a tenth of Nuuk's population. The volunteers come not only from Nuuk but also from all over Greenland, as it is very important for us that AWG2016 benefits the entire country, says Maliina Abelsen, General Manager for the event.
For the arrangers of AWG2016, which is a cooperation between the Self Rule Government, Sermersooq Municipality (which Nuuk is a part of), and local Greenlandic businesses, it is absolutely essential that the event permanently benefits the Greenlandic population.
- We are getting so much valuable experience, and we are learning so much, that it will be useful for a long time into the future. Many companies are supporting the event by allowing their employees to use working hours, aside from their free time, for AWG. When the event is over, the employees will come back to their jobs harder-working, happier, and with a richer skill set. This cannot be stressed enough, thinks Maliina Abelsen.
First Aid, project management, English language, service, and conflict resolution are just some of the many courses that the volunteers were offered in the months leading up to the event. Competencies are strengthened, knowledge is shared, and cooperation is practiced to a higher degree than usual. For example, three competing local caterers worked together to achieve the huge task of providing breakfast and lunch for all the participants.
The participants are all staying in Nuuk's five public schools and one private school, which means that the schools' students cannot attend class as normal. Instead, an entire selection of workshops is offered, to which students themselves could choose to attend. The workshops include beadwork, drum dancing, kayaking, artwork, and media skills.
Arctic Winter Games is a sporting event primarily for youth between 13-18 years who compete in 15 different sports disciplines, from badminton and wrestling to snowshoe running and the Dene Games and Arctic Sports, both of which are traditional games and competitions from Arctic regions. In addition to the sports competition element, Arctic Winter Games is also about culture. All the delegations have their own culture groups along with them which perform at various places and times around town.
Further information can be found by request to General Manager Maliina Abelsen at 299 38 20 16.
Relevant information
Arctic Winter Games 2016 website
www.awg2016.org
Press contacts
Arnakkuluk Kleist
+299 38 20 17
11/03-16 - Press releases