Petite, powerful and now also price-winning: red dot award for vifa's helsinki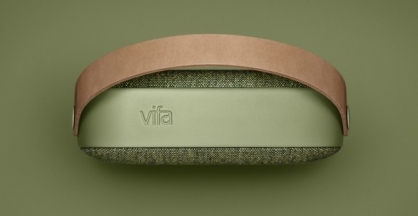 The amazing journey of Vifa's portable Bluetooth-loudspeaker Helsinki has reached yet a new landmark: The attribution of the prestigious red dot design award 2016 for best product design.
"We are truly proud to have caught the eyes and the ears of the red dot jury," tells Michael Sørensen, CEO at Vifa:
"The Helsinki loudspeaker is an amazing product since it integrates small size with great sound, which was a pretty complicated task to accomplish. Therefore we're of course really happy to receive such a recognition as the red dot design award," Michael Sørensen says.
DESIGNED FOR WOMEN
The Helsinki design-process was driven by a specific demand. The loudspeaker should be state- of-the-art in terms of both looks and audio-quality, and it should appeal to a segment of younger women - without pushing away the male consumers.
Therefore, benefits over features became the focal point for framing the product: Uncompromised sound. Nordic, minimalist aesthetics mixing easily in to any interior. Easy and intuitive interface. Tactile experience through embroidered buttons. Complete mobility in a product adapted for both indoors and outdoors use, thus acknowledging the nomadic existence of the younger consumer-seg- ments.
NORDIC CRAFTSMANSHIP IN EVERY DETAIL
Material-wise, obtaining the utmost quality was key to reflect the engineering craftsmanship that lies within the loudspeaker: Resistant, custom-made textile allowing sound to pass perfectly, rigid aluminum frame moulded in one piece, and a genuine leather strap.
HELSINKI was designed to differentiate itself from the classic perception of how a strong loudspeak- er should look, without ever compromising Vifa's trademark sound quality.
APPRAISED IN REVIEWS
The red dot award is a coronation of the Helsinki loudspeaker, which has conquered design- and sound-enthusiasts across the globe since its launch.
Gadgetmac.dk recently reviewed Helsinki, and concluded:
"Vifa's Helsinki is the best sounding portable wireless speaker we have reviewed so far that is not only the most unique and stylish looking, but also made incredibly well. A design that is unquestion- ably Scandinavian, and one that is stunningly minimalist. Simply gorgeous in every way."
And the prestigious on-line magazine design-milk.com also brought out an enthusiastic vocabulary:
"...as a complete package the Vifa Helsinki is amongst the most aesthetically pleasing portable speakers we've yet seen. That it also sounds fantastic makes the Helsinki an equally hot (and haute) choice for anyone looking to give or get a portable audio solution when aesthetics are factored in."
THE TECH-SPECS:
· Two customized 50mm Vifa full range drivers mounted in separate sealed enclosures, deliver a coherent and smooth reproduction of the mid and upper frequency ranges.
· Left and right channel full range drivers are spaced apart as much as possible, angled slightly backwards and to the sides to satisfy optimal performance at various listening heights and maximum stereo width.
· The bass reproduction is handled by two 60mm customized Vifa woofers, mounted mechanical- ly back to back in a Force-Balanced configuration. This eliminates vibrations and forms a very rigid and solid platform for each woofer to start and stop with great precision.
· To further enhance the low frequency reproduction, we managed to implement the Symmetric Passive Radiator design used in the larger Vifa siblings. It uses two rectangular passive radia- tors with double silicone suspension mounted on opposite sides of the speaker cabinet at equal distances from the active Force Balanced Woofer. This outbalances the mechanical impact on the cabinet, and ensures same workload on both woofers and both passive radiators.
· Furthermore, the Helsinki comprises a digital pure path amplifier and DSP crossover optimized for low distortion and high precision.
· In terms of autonomy, a rechargeable Lithium Ion battery assures several hours of playing giving the user an extended mobility.
· As for connectivity, several possibilities to connect to your loudspeaker uniting the newest technologies Bluetooth 4.0 aptX, AUX 3.5 mm mini-jack and NFC.
PRESS MATERIAL AND IMAGES
Press releases and high-/low resolution images can be downloaded at:
www.vifa.dk/press - Login: design
Press contacts
Lena Hansen
Marketing Manager
+45 26 13 70 09
Company
Vifa
Mariendalsvej 2A
8800 Viborg, Danmark
29245575
29245575
www.vifa.dk
31/03-16 - Press releases