Market leader launches subscription model for ebook and audiobooks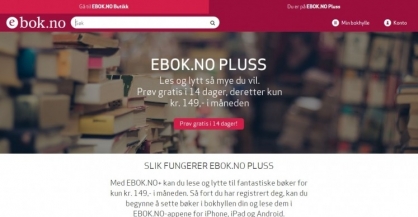 Norwegian market leader in ebook and audiobook sales, EBOK.NO, has launched a new subscription service for ebooks and audiobooks, EBOK.NO Pluss. The price is NOK 149 (about € 16.5) for the "˜all you can read' solution. The new subscription model is an add-on relative to the individual book sales that EBOK.NO is known for.
It has been about a year since Vigmostad & Bjørke took over the only 1½ year old ebook store, EBOK.NO, from Schibsted Media Group and their market share in the Norwegian ebook market has only grown since. EBOK.NO's leader, Elizabeth Sellevold describes the secret to the success is a deep understanding of the reading behavior as well as hard work communicating the benefits of reading digitally. "Starting business in a market where few read digitally has been a challenge, but due to our understanding of readers we have successfully been able to serve about 200,000 users in Norway".
But Elizabeth Sellevold is not resting on her laurels acknowledging the potential challenge from foreign book sellers: "Big international players have been looking at Norway, and few have already established a foothold in the market. Having a strong local presence helps us market the type of digital solution that our readers want. It will be this close relationship with EBOK.NO's readers that will prove to be the decisive factor for success in the long run."
Since the conception in 2013, EBOK.NO has been partnered with Danish technology company Pubfront where Pubfront is the exclusive technology provider to EBOK.NO. This partnership has recently been prolonged. And with a new long-term agreement comes the ability for EBOK.NO to market the "˜all you can read' solution EBOK.NO Pluss.
Anders Breinholst CCO and co-founder of Pubfront: "We love working with visionary companies. It is always a huge pleasure having clients push for new innovative ways of expanding our digital delivery platform. We expect a lot from EBOK.NO and their move into delivering reading experiences through a subscription model."
About Ebok
The company started in 2013 and within 14 months becoming the leading provider of ebooks in Norway. Vigmostad & Bjørke acquired EBOK.NO from Schibsted Media Group in June of 2015, but Vigmostad & Bjørke is also one of the largest publishers in Norway as well as the owners of the largest online book store Haugenbok.no. Please find the EBOK.NO reading app in the App Store or on Google Play.
About Pubfront
Pubfront.com creates white label online stores for publishers and media companies. Pubfront is also the exclusive technology provider to Riidr.com in Denmark as well as Bokon.se in Sweden. Pubfront.com has more than 7 years of experience creating advanced digital solutions.
Press contacts
Anders Breinholst
CCO & Co-founder
+45 3113 7885
Company
Pubfront.com
Njalsgade 19D, 1.sal
København S, Denmark
+45 31137885
www.pubfront.com
19/01-17 - Press releases