Lyd [Sound] by Dissing launching danish on wall speaker in USA; via Houzz.com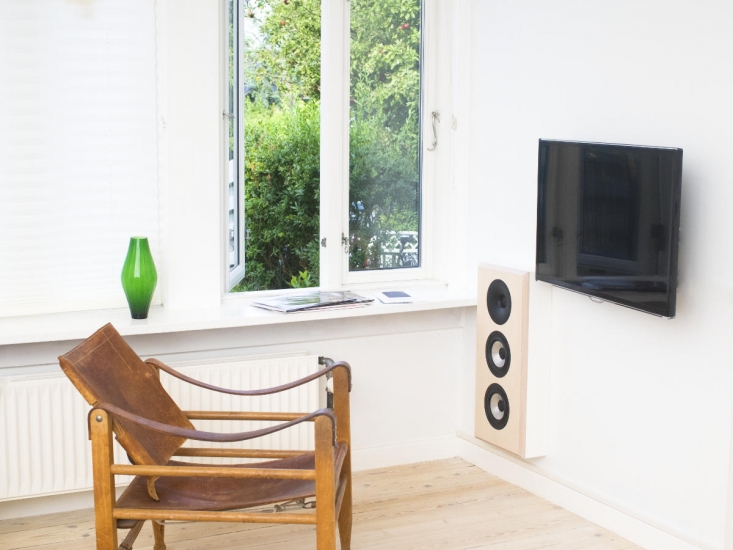 It is now possible to acquire the danish Copenhagen On Wall hand crafted high end on wall speakers in USA. Lyd by Dissing's [Sound by Dissing] speakers are made available to the American marked through the Houzz.com platform.
Lyd by Dissing makes on wall speakers that discreetly and effortlessly integrates into the modern living room. Their Copenhagen On Wall model is now available in the USA store of the Houzz.com platform.
The cabinet is finished in an off-white mat finish to match existing interior and furnitures. The Copenhagen On Wall speaker is designed to sound as good as possible and the on wall placement makes it a perfect match between sound quality and looks.
When designing the Copenhagen On Wall speaker Lyd by Dissing made it a clear design goal to create a high end on wall speaker that easily integrates into the modern home. A speaker that becomes part of the living room and play well together with the existing furnitures.
When asked about the choice in style and finish founding executive director Mr. Tue Dissing says: "We mean it when we say our on wall speaker is a piece of furniture. That is exactly why we have chosen materials and a finish that matches the most high end nordic furnitures - both in quality and style. Our skilled cabinetmakers are building and finishing each speaker by hand to ensure the best possible finish."
The on wall placement makes it a brise to achieve the ideal position of the speakers, enabling a true high end listening experience.
One of the biggest benefits of the on wall placement is the natural gain that is created when a speaker is placed close to or directly on a wall. We have actively used this to our advantage and designed our speaker and crossover with this in mind.
The efficiency of the Copenhagen On Wall speaker is 91dB, making this speaker a truly dynamic speaker. At the same time it is easily driven enabling small amplifiers to driver these speakers to very loud sound levels.
The Copenhagen On Wall speaker is equipped with a single 1" ceramic dome tweeter and two 5" aluminum bas-/midrange drivers. The construction is a true 2-way speaker with a 4th order crossover - at 2kHz - this ensures a perfect transition between the drivers and as a result a very flat frequency response. In order to achieve the low crossover point the tweeter is mounted in a waveguide, which gives the speaker a very wide and even horizontal and vertical dispersion, resulting in a big and clear sound stage.
For more information about the product or how to become a reseller contact CEO Mr. Tue Dissing:
Att. Founding Executive Director
Mr. Tue Dissing
Lyd by Dissing ApS
Aabjergvej 12M
DK-2720 Vanloese
Denmark
Tlf.: 45 20683302
tsd@lydbydissing.com
https://lydbydissing.com
Lyd by Dissing [Sound by Dissing] is a privately held danish speaker brand with a flair for minimalistic design and great sound.
The company was founded in September 2014 by the founding director Mr. Tue Dissing.
Press contacts
Tue S. Dissing
Foudning Executive Director
+45 20683302
+45 20683302
13/03-17 - Press releases