Hanne Christensen appointed new CEO succeeding Øjvind Andersen Clement at FORCE Technology
As of 1 May 2020, Hanne Christensen will take up the position as President and CEO of FORCE Technology, the Danish research and technology organisation (RTO).
Hanne Christensen is a mechanical engineer by education and comes to FORCE Technology from a position as Managing Director in Ramboll Water. For the past 13 years Hanne has held several director positions in the Ramboll Group in Denmark as well as internationally.
Hanne Christensen succeeds Øjvind Andersen Clement, who as of 30 April 2020 resigns his position in FORCE Technology. Over the last years Øjvind has spearheaded a business turnaround, bringing FORCE Technology to a new and stronger position and ready for the future.
The Board of Directors has concluded that time is right for a new skillset in the Executive Management to define and implement a new strategy focusing on growth within existing as well as new activities focusing on clients and their needs.
"FORCE Technology is in a unique position with highly skilled employees and extensive knowledge in a wide range of areas, needed in industry and society to meet the future challenges and opportunities in both a digital and green transformation", says Frederik Smidth, Chairman of the Board and continues: "The Board of Directors thanks Øjvind for his immense efforts in FORCE Technology first as CFO and for the last 4 years as CEO."
The Board of Directors welcomes Hanne Christensen and looks forward to the future collaboration.
On behalf of the Board of Directors
Frederik Smidth (Chairman) and Jesper Haugaard (Vice-Chairman)
Further information:
Chairman of the Board of Directors, Frederik Smidth, cell +45 4013 3161, fsmi@force.dk
About FORCE Technology
FORCE Technology is an independent and government approved research and technology organisation (RTO), that maintains and develops a technological infrastructure of unique facilities, technologies and competences to the benefit of society and industry. FORCE Technology transforms highly specialised technological knowledge into practical and value-added solutions for a wide range of sectors and industries. With more than 1,100 employees in more than 30 offices in 6 countries, we help our clients through specialist consulting and training, laboratory services and testing, on-site inspection and measurement as well as unique components and products.
Relevant information
About FORCE Technology
www.forcetechnology.com
20200422 Press Release: New CEO FORCE Technology
Press contacts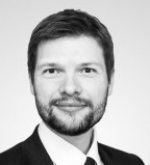 Thomas Bech Hansen
Vice President
+45 43 25 00 00
22/04-20 - Press releases