Take us to the next level of digitized construction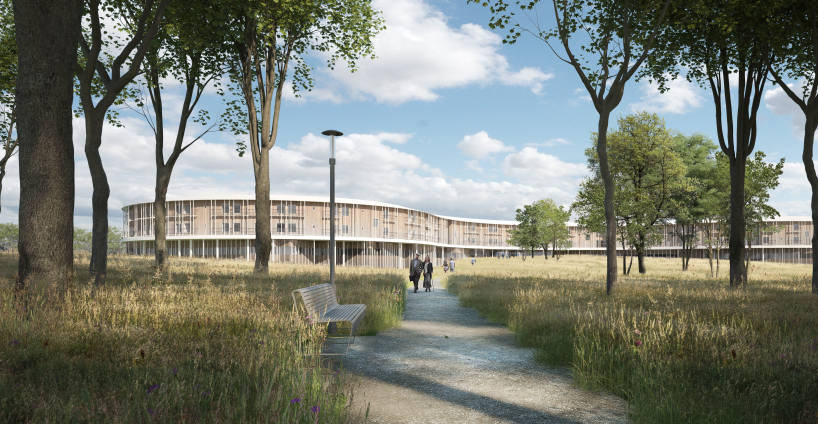 With the public invitation to tender the new Danish hospital by Herzog & de Meuron and Vilhelm Lauritzen Architects follows a clear message: Take us to the next level of digitized construction.
The construction of several public hospitals in Denmark represents a unique opportunity to develop new solutions both technologically, architecturally, and in terms of design. Solutions that can inspire others across the world. This is certainly our ambition for the new hospital in North Zealand delivered by the renowned swiss architects Herzog & de Meuron and Danish Vilhelm Lauritzen Architects.
Need for digitized construction
However, it will require an effective and digitized construction process to achieve this within the given budget. Currently, there are several large construction projects in Denmark. Some of which have difficulties managing time and budget. Often, the client has one explanation, the adviser another explanation and the contractor yet a third.
"Digitizing the construction process will offer a common overview to the client and contractor. If we fail to achieve such a digitization, we risk facing several critical conditions. First, a general limited contractor turnover and revenue often result in lack of reinvestment in new solutions with substantial consequences for the buildings under way. Second, too many projects end up cutting away the things that makes them extraordinary – including architectural and quality features that will secure their relevance 10-20 years after commissioning," project director for the New North Zealand Hospital, Henrik Schødts, states.
He continues:
"With a project of this magnitude it is critical that every detail is connected and that information about the construction is accessible to all parties – from the client's adviser to construction site employees. That is why we are searching for a main contractor with the same digital ambition as ours. All details must be planned and monitored to create the building we envision."
Mutual commitment within tender material
Today, many contractors are ready for such a thorough digitized process. "Through initial market dialogue, contractors explained for us how they are ready for this digitized construction but are not met with a demand for such from their client. Therefore in our tender material, we commit ourselves and the contractor to deliver the most digital construction in Denmark to date," says Henrik Schødts.
A common challenge in the interaction between contractor and client is that digital platforms tend to be fragmented with an inhibitory effect on planning and coordination. For instance, some apps present dashboards with only a few data points, resulting in a missing digital link between the progress of the construction, finances and time. Furthermore, documents are disconnected from the applied 3D- model. In practice, this encourages different manual procedures, just as software developed by specialists can be difficult for employees to use at the construction site.
These are the types of challenges we want to address.
Specifically, New North Zealand Hospital will provide a variety of new technologies and offer training to the workers at the construction site, if needed. The ambition is to create a digital platform that include information such as design documents, VR and correspondence between the different parties to ensure its active use in all aspects.
The winner will be announced in May 2019
The notice of invitation to tender was sent out Friday the 7th of September, and the contractors have a month until the 8th of October to become prequalified. The winner of the contract is announced at the end of May 2019.
"Other large Danish projects have been concerned about the sufficiency of qualified contractors to bid in a heated market. We hope for a great participation in the public tender both domestically and abroad, since the project is both large and exceptional," Henrik Schødts states.
FACTS
The new hospital in North Zealand:
• +310,000 citizens in estimated uptake area
• +500,000 outpatient treatments a year
• 70,000 acute admissions a year
• 570 single-bed patient rooms
• 118,000 m2
• Total budget of DKK 4.2 billion in 2018 prices
• Client: New North Zealand Hospital, Capital Region of Denmark
• Advisor: Herzog & de Meuron / Vilhelm Lauritzen Architectsees to use at the construction site.
Photo credit: © Herzog & de Meuron - Vilhelm Lauritzen Arkitekter
Relevant information
Link to Ted tenders electronic daily:
https://ted.europa.eu/udl?uri=TED:NOTICE:400503-2018:TEXT:EN:HTML&src=0
Press contacts
Henrik Schødts
CEO
+ 45 31 43 20 41
Louise Lykke
Press contact
+ 45 51 60 57 72
19/09-18 - Press releases