OSPEL embraces new 2019 interior designer trends
After years of undisputed reign of minimalism and restraint of Scandinavian style, in 2019 the interior design industry takes a new and exciting direction. The Italian and German annual designer fairs surprised visitors with bold arrangements, a fresh palette of colours and organic decorative motifs.
The upcoming changes were noticeable at the end of the last season, but the spring 2019 brings a real explosion of eclectic arrangements and nearly baroque elements in house decoration.
The white is off – long live the colour!
The main novelty is a decisive move away from the white and cool grey. Cold colours are giving way to pastel shades. The trendy palette for 2019 will include colours created by nature itself: saffron, apricot, amber, tea rose or dirty pink. Willow-green will be a notably fashionable colour too.
However, 2019 is not to shun from strong accents either. Dramatic bordeaux, purple, pomegranate, deep greens and coral will dominate the intensive end of the fashionable palette. In fact, Living Coral, straight from oceanic reefs, has been announced the colour of the year. "At Ospel, we closely follow the latest trends in the interior design industry. We know that trendy colours are important to our customers. We strive to offer a product range that will meet the designers' expectations. In Karo collection we therefore propose dark wine and chocolate colours and in Impresja collection a deep shade of plum "- says Beata Pandel -" Light controls and plates are no longer seen as merely lamp switches. They are now one of the important elements of the interior design that have to respond to contemporary style and fashion. "
Is this the end of geometric shapes?
Not entirely, but especially in the furniture industry, designers strongly refers to nature. Furniture is rounded in shape and cylindrical in silhouette. Chairs made of bent wood, sofas with barrel-shaped pillows and patterns inspired by the '70s are making a big entrance.
Fashionable furniture in the 2019 season is often made of metal or marble too. Stone and terrazzo, so directly referring to the 70's, make a big come back. "We are curious to see how the furniture market is changing. We want our products to meet the requirements of customers. They will choose electrical accessories to match the furniture they buy, "adds Beata Pandel.
Eclecticism and maximalism
The triumphant return of luxurious fabrics, floral designs and botanic accents has certainly diversified the somewhat conservative decor of our homes in the recent years. Eclecticism has arrived for good, combining various styles and eras. The designers also emphasize that a fashionable house should have 'shiny', maximalist decorations - copper, gold, metal. "We take this trend very seriously. The departure from white in favour of metallic elements has been turned into specific products by Ospel. For example, in the Impresja, Sonata and Aria collections, metallic colours are becoming more and more popular. In our product range we also offer glass and shiny decorative frames. This is an interesting direction for us, which we will certainly continue to explore. "
Relevant information
Read more
https://www.ospel.pl/produkty
Press contacts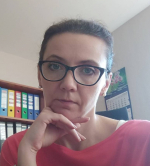 Beata Pandel
Press contacts - International Trade and Export
+48 (0)32 6737106
26/02-19 - Press releases