Classic cars are everywhere these days, BookAclassic takes on Europe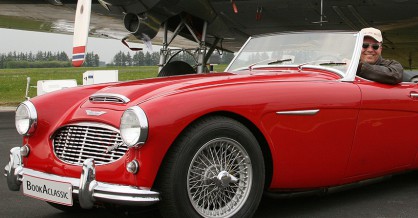 What do you and James Bond have in common? Probably not much. But now you can easily drive the same Aston Martin thanks to BookAclassic.com - the leading portal for rental of classic and unique dream cars.
The renaissance of classic cars
The recent revival and invasion of classic dream cars is well monitored by auction houses and luxury car dealers. Prices are sharply increasing along with the demand for high-end collectibles, and these tendencies were immortalised recently in world records of multimillionaire purchases.
Most importantly, the share economy resulted noteworthy tendencies; BookAclassic has almost doubled its turnover three times in three consecutive years.
BookAclassic, wherever you are.
By 2012 BookAclassic became the leader in the Scandinavian market. The concept was introduced to the United Kingdom in 2013 and Germany a year later. Driven by the promising industry, BookAclassic management is now aiming to reach its new prevailing objective: dominate the entire common European market by expanding its concept and methods.
In cooperation with Aalborg University in Denmark, BookAclassic has developed a sophisticated online booking and price calculating system. The latest version is fully automated and manages everything from price calculation, reservation, online payment and communication with renters and owners.
With a super-fast booking system and early success under its belt, Northern Europe's leading luxury and classic car rental site is dedicated to spreading their one-of-a-kind experience and know-how to the rest of Europe.
Working better by working together
BookAclassic has no competitors, only partners. Besides promoting modern business values under the auspices of sustainable cooperation, the friendly BookAclassic team welcomes collaboration with industry actors and stakeholders. Hence, all other European sites and companies which operate domestically or regionally are asked to connect with BookAclassic.
With all of this working in their favour, BookAclassic are making it easier than ever for people all over Europe to get a taste of the James Bond lifestyle.
Press contacts
Kent Mosbech
+447479222606
Company
BookAclassic Ltd.
823 Salisbury House
EC2M 5QQ London, England
+447479222606
www.bookaclassic.com
26/06-15 - Press releases