Becomes Norways market leader of classic car rental in 9 months!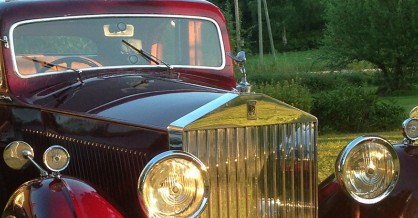 Europe's leading portal for rental of classic and unique dream cars becomes market leader of Norway in just nine months.
We are proud to serve Norwegians with dream cars
CEO for BookAclassic Kent Mosbech proudly announced, "Our strategic plan to become market leader of classic car rental in Norway came to fruition three months early". The BookAclassic.no site is number one on all major search engines, confirms two neutral web-analysing companies. "This is also confirmed by our several hundred percent rise in bookings." Kent Mosbech ads with a smile. "We're proud to to be the first choice for Norwegian people and companies renting dreams cars and are thankful that we've been so well received in the market"
Norway didn't look promising at first
BookAclassic's first stage of the strategic plan for a new market is always a friendly chat with established domestic companies in the same industry. BookAclassic contacted several Norwegian sites and services that offered classic car rental to encourage cooporation. Unfortunately this proved fruitless for quite a while. The next plan, find a local partner in the market, worked out much better. BookAclassic found a very competent Norwegian Country Partner. Or rather, "He found us" Kent Mosbech explains. The partner immediately saw the large potential in Norway and BookAclassic's 30 seconds price calculation and booking system. Together they followed the market entry plan and even added a bit of Norwegian cleverness. Nine months later the strategy was fully implemented. And the fruits of their labour are obvious.
The future is full online service
Today BookAclassic.no is a combination of innovative Norwegian webskills, customer service and the attractive price and booking system. Kent Mosbech predicts, "Within 18 months there'll only be two classic car booking sites left out of the current four." The reason is simple, says Kent "Norwegians are used to quick online service. They want a good price instantly and want to book as soon as they've found their dream car. It's as simple as that...there are still other norwegian sites with more classic cars then BookAclassic.no but this is only a matter of time. The customer demand will change this soon"
Car owners love the service
A quick search on the internet also reveals a positive response from the car owners. TrustPilot revives from a car owner with a free profile on BookAclassic gives the service 5 stars and this testimony, "I have two vintage cars on BookAclssic and am very pleased. It's easy and predictable, from the request to the completed booking. Would recommend anyone with a vehicle of character to do the same as me. Thumbs up!" BookAclassic helps museums, limousine companies ands private car collectors to rent our their vehicles for film productions, company events and private weddings and encourages all classic or dream car owners in Norway to join and get a free profile on their car.
Who is BookAclassic?
BookAclassic offers the most extensive online database of unique vehicles of any kind in Northern Europe. The database holds an ever growing collection of unique vehicles online (valued at more than € 30 million) and 15.000 vehicles offline. The company's objective is to make BookAclassic Europe
Press contacts
Kent Mosbech
+447479222606
Company
BookAclassic Ltd.
823 Salisbury House
EC2M 5QQ London, England
+447479222606
www.bookaclassic.com
28/09-15 - Press releases