Give yourself a classic car for Christmas and let BookAclassic pay for it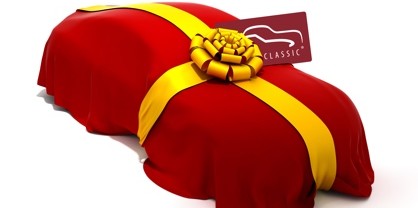 Indulge in exciting experiences with your new classic car. BookAclassic has delivered classic vehicles to films and commercials, giving the owners an unforgettable experience and money to take home. We register suitable cars for a variety of assignments that in just a few years could pay back your investment.

So drive into a world of exciting events with Europe's leading online booking portal for rental of classic and unique dream cars.
With free registration, BookAclassic can pay for the costs of your classic dream car.
Many of the classic car owners in Scandinavia who've signed up for a free profile with BookAclassic have been paid back their car's value in just two or three years. Erik Nielsen from Denmark uploaded his Pre-war Chevrolet to BookAclassic.dk and just a few days later he received his first assignment with his vintage car. Erik Nielsen explains "I've had so many great experiences with my Chevrolet. And now it's even paid for itself!".
Your classic car can open a world of experiences.
Erik Nielsen makes the most of his adventures and the simple booking process thanks to his profile on BookAclassic. Including having his car used as a backdrop in a Gatsby theme party. "My car was making money while I was invited to join the party and had a great time playing a gangster".
Kent Mosbech, CEO of BookAclassic Ltd. London explains "Classic cars are more and more in demand, because they stand out from the crowd and send a grand visual signal to all...classic cars speak to our emotions, feelings and dreams. So if you experience an event where a classic car is present it instantly adds an unspoken atmosphere of class to the event". Kent adds, "We have many satisfied car owners on our booking platform who've got their investment in a classic car back within just a few years."
Which car model should you buy?
This changes from country to country, because certain models reflects different eras and parts of history. A good example is a Trabant in Germany. A Trabant puts a smile on every German face if they're more the 30 years old. There are some models that in general are very popular across the European countries BookAclassic currently operates in. Models like VW Beetle and T2 are in high demand for 70's events. A Fiat 500 is a design icon and in high demand. Jaguar MK2 is also a desirable classic for renters because of its design and space. Then there are the American classics like the Ford Mustang, Cadillac DeVille and Lincoln Continental. All these models are pure classics and give you a huge opportunity to pay back the cost. What's more, true classic cars increase in value year after year, often at a better rate than bonds, art and luxury wines. As stated in the Knight Frank Luxury Investment Index, Classic Cars' value increased by 487% over the period Q4 2004 - Q4 2014.
Give yourself the perfect gift.
A free car profile on BookAclassic could be the perfect solution for all classic car lovers who want a reason to buy the car of their dreams. Or the classic car owners who just want new adventures with their classic car, while getting paid at the same time. A car profile on BookAclassic is totally free, there's no annual fee and no binding contracts. As an owner you'll receive assignments by text message and email and can decide whether to accept or decline any booking. BookAclassic only has a booking fee on bookings that you accept. And not to worry, you'll stay with the vehicle throughout each event and no one other than you will be allowed to drive the car. Register your car via this link: www.bookaclassic.com/register
So give yourself a classic car for Christmas and drive into a world of exciting events with Europe's leading online booking portal.
Press contacts
Kent Mosbech
+447479222606
Company
BookAclassic Ltd.
823 Salisbury House
EC2M 5QQ London, England
+447479222606
www.bookaclassic.com
03/12-15 - Press releases