How to think globally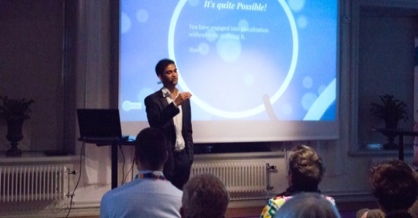 Vipul Nandanyia from Evolution9 presented various key points on Globalization during 4th Nordic Conference at Stockholm. Covering essential topics such as Diversity, Glocal, Serving attitude, Use of technology in Mode of Goodness, 3D (Dream-Dare-Deliver) with a vision of ancient sanskrit text "Vasudhaiva Kutumbakam" which means "The whole world is one single family".
Covering a broad variety of different economic, political, and cultural trends, the term "globalization" has fast became one of the most powerful buzzwords of these days.
Although is discussed and treated in different ways in terms of all the bearings of our society, globalization is, without a doubt, an inevitable phenomenon that affects each and every person on Earth.
Why is it so important to understand, accept and adapt and how can we benefit out of globalization in business life?
Saco, a Swedish Confederation, composed of 22 independent trade unions and professional associations organized an event on 19th of March, gathering 7 business people from various Nordic countries such as Sweden, Denmark and Norway to outline all these questions. They shared their ideas, strategies and experiences with other 60 professionals.
Vipul Nandaniya, one of the speakers (CEO of Evolution 9, IT Danish company), presented various key points on Globalization, but also on an important key for companies that are willing to succeed in export and growth: "glocal" thinking. He covered essential topics such as Diversity, Serving attitude, Use of technology in more of Goodness.
What is meant by thinking glocal? Well, the term it is taken from the phrase "Think global, act local" which means that we therefore need to think globally, while acting locally, in our country.
"The world represents opportunities", said the CEO of Evolution9. Every single market can be seen as a new chance. It is a part of a whole. The second question is about how you serve your customers; how do you connect to this global world?
Technological development helped the whole world to become interconnected, like a family. There are plenty of choices to communicate through internet. Therefore, this fact has created a great advantage: the opportunity to test your product/service on another market.
"There are people you have never met, but whom like your page, or write comments to your posts. They interact with you. And what does it mean? Well, there is an opportunity to reach out to the market. You can do a little test; ask them what they think about the product you want to launch in their home country. It is a step to get further with your business vision." explained Vipul Nandaniya.
He also spoke about another important aspect when it comes to succeed in acting globally: Diversity. He considers that having a team with diverse people in your company, whether is about the place they were born or skills they have, it creates an environment where differences can be highlighted and contribute to a better structure.
In order to think globally is necessary to learn to respect and appreciate diversity. This is the only way to connect with others. Vipul focuses on the unique traits of every of his employees. He continuously tries to create an environment where they can flourish. After understanding each other, only then, it is possible to start working with an ingenious and homogeneous environment. "That creates a different spice to the company", added Vipul.
Back again to Globalization, he offered a very interesting tip for companies that intend to establish in a foreign market: find someone in your country who belongs to that specific foreign country. The biggest advantage obtained is the help from someone who knows both cultures.
Press contacts

Vipul Nandaniya
CEO
+45 71 88 89 54
23/04-14 - Press releases