IT Job Hunting
26-04-14 - Press releases
Vipul Nandanyia from Evolution 9 speaks to 40 highly motivated and engaged international IT-professionals at International House Copenhagen
Experience as a foreign entrepreneur
24-04-14 - Press releases
Evolution 9 presented the topic "Experience as a foreign entrepreneur" at an event organized by Municipality of Frederiksberg
How to think globally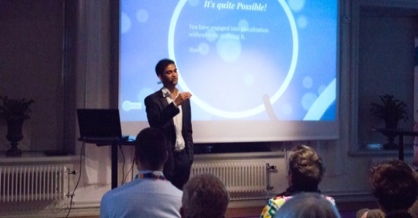 23-04-14 - Press releases
Vipul Nandanyia from Evolution9 presented various key points on Globalization during 4th Nordic Conference at Stockholm. Covering essential topics such as Diversity, Glocal, Serving attitude, Use of technology in Mode of Goodness, 3D (Dream-Dare-Deliver) with a vision of ancient sanskrit text "Vasudhaiva Kutumbakam" which means "The whole world is one single family".
Contact persons

Vipul Nandaniya
CEO
+45 71 88 89 54
info@evolution9tech.com
Our mission is to streamline and disseminate all kinds of press and business information and make it available to all on all available platforms.
about MyPressWire